Library Proxy Server
The Library uses a proxy server to control access to subscription-licensed databases, e-journals and other resources. The proxy server acts as an intermediary between a computer/user and the internet address of the electronic database or journal to ensure security and authentication control required by the vendor of a commercial resource.
The proxy server receives a request for an Internet service (such as the URL of an electronic resource to which the library subscribes) from the user via their web browser. If the request originates from an IP address outside of the libraries, the proxy server routes the connection to an authentication verification program (i.e. login screen). The Library uses the University of Hawaii ITS LDAP (Lightweight Directory Access Protocol) system for verifying and authenticating users as valid UH-Manoa affiliated students, faculty or staff.
If the connection request passes filtering requirements (e.g. you have already logged in and used another electronic resource in the same browser session), the proxy server will connect the user without needing to forward the request to the authentication check. For the user, after the initial login within the same browser session, the proxy server is invisible; all internet requests and returned responses appear to go directly to the addressed URL.
Unable to match name to UH number
Error message:
Sorry, your UH Username (xxxxxxx) was correctly entered, but we were unable to match your UH Number (########) to a current UH Manoa Library
The lastname on file in your library account does not match the lastname on file with the UH Registration and ITS account systems. The two must match before you can use your UH Username to login. If you know your active library barcode number and the last name on file with the library you may login using that information. Otherwise you will need to update the name on file in your library account by going in person to a circulation desk at any UH system library (Hamilton, Sinclair, JABSOM for the Manoa campus) or
submit an update request online
[http://library.manoa.hawaii.edu/research/databases/IDReg.htm]
Electronic resource is restricted
Error message:
Sorry, this electronic resource is restricted to University of Hawaii at Manoa students, faculty, and staff to comply with licensing agreements. Your current affiliation is (XXX). If you have multiple affiliations, please login again and choose a current Manoa account. You can use any electronic resource from within the Library and there are many unrestricted (free access) resources available.
If you have just started classes at UH Manoa, or if you made a late payment for registration, or if you are registered
only
in a distance education or Outreach College class, your record may not have been added automatically to the library system. You will need to request a library account by going in person to a circulation desk at any UH system library (Hamilton, Sinclair, JABSOM for the Manoa campus) or
submit an update request online
[http://library.manoa.hawaii.edu/research/databases/IDReg.htm]
UH username not recognized
Error message:
The UH Username (xxxxxx) and Password you entered were not recognized. Please verify that you entered them correctly. You might want to try to login with your barcode and last name.
The error indicates the password you supplied with the UH username was not recognized as valid. Check to make sure you are able to access another UH service such as
UH Gmail
[https://mail.google.com/a/hawaii.edu/] or
UH User Account Management
[https://www.hawaii.edu/username/] with the same name/password. If you cannot login to any UH service, you may check the status of your username by filling out an
online form
[https://myuh.hawaii.edu:8888/sessionid=nobody/am-sso-check-status] or by contacting the ITS Help Desk Telephone: Oahu - (808) 956-8883; Toll Free from Hawaii Neighbor Islands - (800) 558-2669; Email:
help@hawaii.edu
If you are trying to search an electronic database or journal from a computer workstation located outside of the Hamilton or Sinclair Library buildings, you must connect through the
UH Library proxy server
. To connect to the the library proxy server, use the
E-Resources & Databases
link on the main library page. After you have selected a resource from the Search Results page and clicked on the specific database or journal link you will be prompted to login.
Problems linking to a database or journal, browser does not respond as expected
To resolve the problem, try:
Clearing the cache, history and cookies from your browser
Verify that you are linking via the library's electronic resource search page http://micro189.lib3.hawaii.edu/ezproxy/, rather than using a previously bookmarked link.
Using a different browser (e.g. Opera from www.opera.com)
Check that your browser accepts cookies from the library e-resource proxy server
Check Windows privacy settings (Win2000,Me,XP) to make sure they are not set to block all cookies
Check your Windows or third party firewall settings to make sure connections via ports 2048-7049 are permitted
If none of the above helps, see if the same problem occurs if you use a different computer located somewhere else. If you have the same problem on different PCs and with different resources, even after clearing files, changing settings and browser, please send more information via the
Feedback Form
The page cannot be displayed
The page you are looking for is currently unavailable. The Web site might be experiencing technical difficulties, or you may need to adjust your browser settings.
Login page redisplays
The appearance of being logged in and then being kicked back into the login page would suggest a
cookie
problem. Two cookies from the host micro189.lib3.hawaii.edu are needed to access electronic resources. Once to logon and a second time to connect to the proxied session for the database or other e-resource.
To set Internet Explorer to accept cookies, follow these steps:
Open IE
Pull down the Tools menu, select Internet Options, click on the Privacy tab.
Click on the Advanced button to set global options.

Click the radio button for "Accept" first party Cookies and check the box next to "Always allow session cookies" or select "Prompt"

Alternatively, you can specify that all cookies from the domain "hawaii.edu" are accepted

To test if you are getting the cookies required for the site set the IE privacy settings to prompt for all cookies. The sequence of URLs (using ABI/Inform as the example e-resource) and cookie requests should be as follows:
1. open IE
2. go to http://micro189.lib3.hawaii.edu/ezproxy/details.php?dbId=1
3. prompt from IE to accept cookie from micro189.lib3.hawaii.edu. cookie name is PHPSESSID (accept)
4. click on ABI/INFORM Global (url on page is http://micro189.lib3.hawaii.edu:2048/login?url=http://www.umi.com/pqdauto/)
5. prompt to go to a secure connection displays ( answer yes)
6. login with [username] and 8 digit UH number
7. prompt that connection is being redirected to unsecure connection displays (answer yes)
9. prompt from IE to accept cookie from lib3.hawaii.edu. cookie name is ezproxy (accept)
10. redirected to the proquest databases page (http://micro189.lib3.hawaii.edu:2084/login)
Page cannot be found
This error message is caused by something, for example a
firewall
, denying traffic on port 2048-7048. The firewall may be software or hardware or both at either your computer, ISP or network level. Internet connections on TCP ports 2048-7049 need to be accepted from IP 128.171.57.189 in order to connect to electronic resources from any location outside of Hamilton or Sinclair libraries. If you are using software such as "Norton Personal Firewall", "Black ICE", "Norton Internet Security" or "Zone Alarm" on your computer, or if you have a router which may have firewall settings, you will need to change the configuration to allow connections on the TCP ports used by the library proxy server.
The firewall included in Windows XP may be on by default. Follow these steps to disable the firewall:
1.Do one of the following:
* In Category View, click Start, Control Panel, and then click Internet Connections.
* In Classic View, click Start, Settings, and then click Control Panel.
2. Click Network Connections and then double-click the Network icon.
3. Click the Properties button and then click the Advanced tab.
4. Remove the checkmark from the box in Internet Connection Firewall.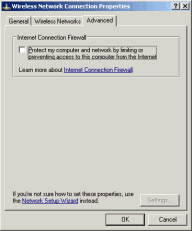 5. Some computers have multiple network connections such as one connection for a local area network and another connection for a wireless network. Disable the firewall for the network connection which you will be using to access the library electronic resources gateway.